Description
This installer installs the main instrument management application, as well as the instrument's USB driver.
WARNING: It must be installed BEFORE connecting the instrument to the PC for the first time.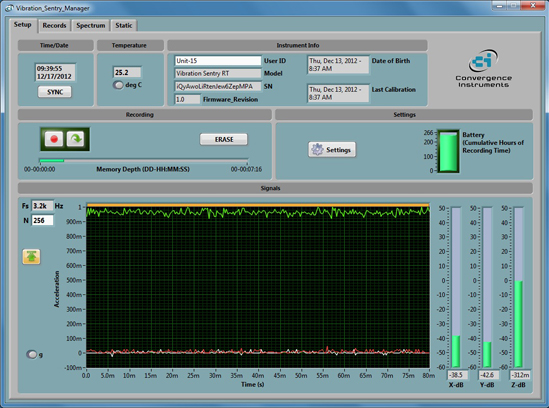 Installation
Download the installer and run it.
For Windows XP see manual driver installation procedure
Vibration Sentry RT and E Manager Software – (V420, March, 2016). Suitable for both VS RT and VS E.


User's Manual
After installation, open from Start Menu\All Programs\Vibration_Sentry_RT_Manager\Documentation
Compatibility
Functions
Instrument Setup and Management
Real-Time Oscilloscope Function
Real-Time Spectral Analysis
Recording Download and Visualization
Data Export
Tab-Delimited Format (Excel)
.wav files (for raw signal processing)
.cil files (for data archiving and data exchange)